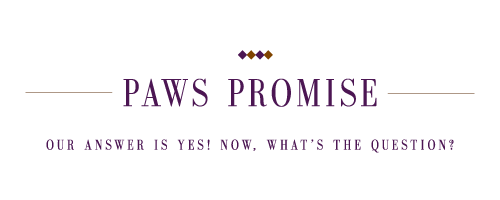 At Spa Paws, we are committed to showering our guests with the highest level of personal service and care. You can think of us as a five-star hotel and spa exclusively designed for guests with four legs. Here your pets are treated like royalty. Their unique preferences, needs and schedules are adhered to from a screened and handpicked staff, 24 hours a day. We are reinventing the world of pet care, providing a wide array of services to help them stay healthy and feel happy.
We want you to feel secure in leaving your pets with us whether it is for a few hours or a few days. At Spa Paws Hotel your pet's needs and tastes come first. That is the Spa Paws promise.
You can have peace of mind knowing your pets are in the lap of luxury.