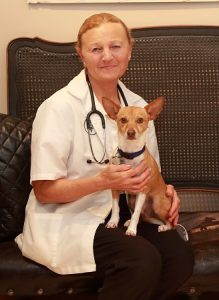 In June 2016, Spa Paws Hotel welcomed Dr. Anne Barns to head their on-site facility, Paws Wellness Center.
Since her arrival, Dr. Barns's garnered rave reviews from clients and staff alike!
She earned her Bachelor of Science in Biomedical Science ('83), Bachelor of Science in Veterinary Science ('85) and Doctorate of Veterinary Medicine ('87) from Texas A&M University. Looking to create a more positive and less invasive pet experience, Dr. Barns has also studied Veterinary Orthopedic Manipulation, Veterinary Homeopathy and Acupuncture. With nearly 30 years of experience, Dr. Barns and Paws Wellness Center looks to provide Spa Paws clients – and Fort Worth locals – the best in veterinary care.
With Paws Wellness Center located inside of Spa Paws hotel, we are able provide immediate attention to our guests in doggie daycare or boarding (dogs and cats) during the Center hours. Dr. Barns is available to update new guest shot records so fur-parents can proceed with check-in and not miss their travel arrangements for pleasure or business. Paws Wellness Center and Dr. Barns are a great addition to Spa Paws Hotel and a practical amenity for our guests and their caretakers.
Call Paws Wellness Center direct, 817-332-9355, to schedule your dog's next wellness visit.